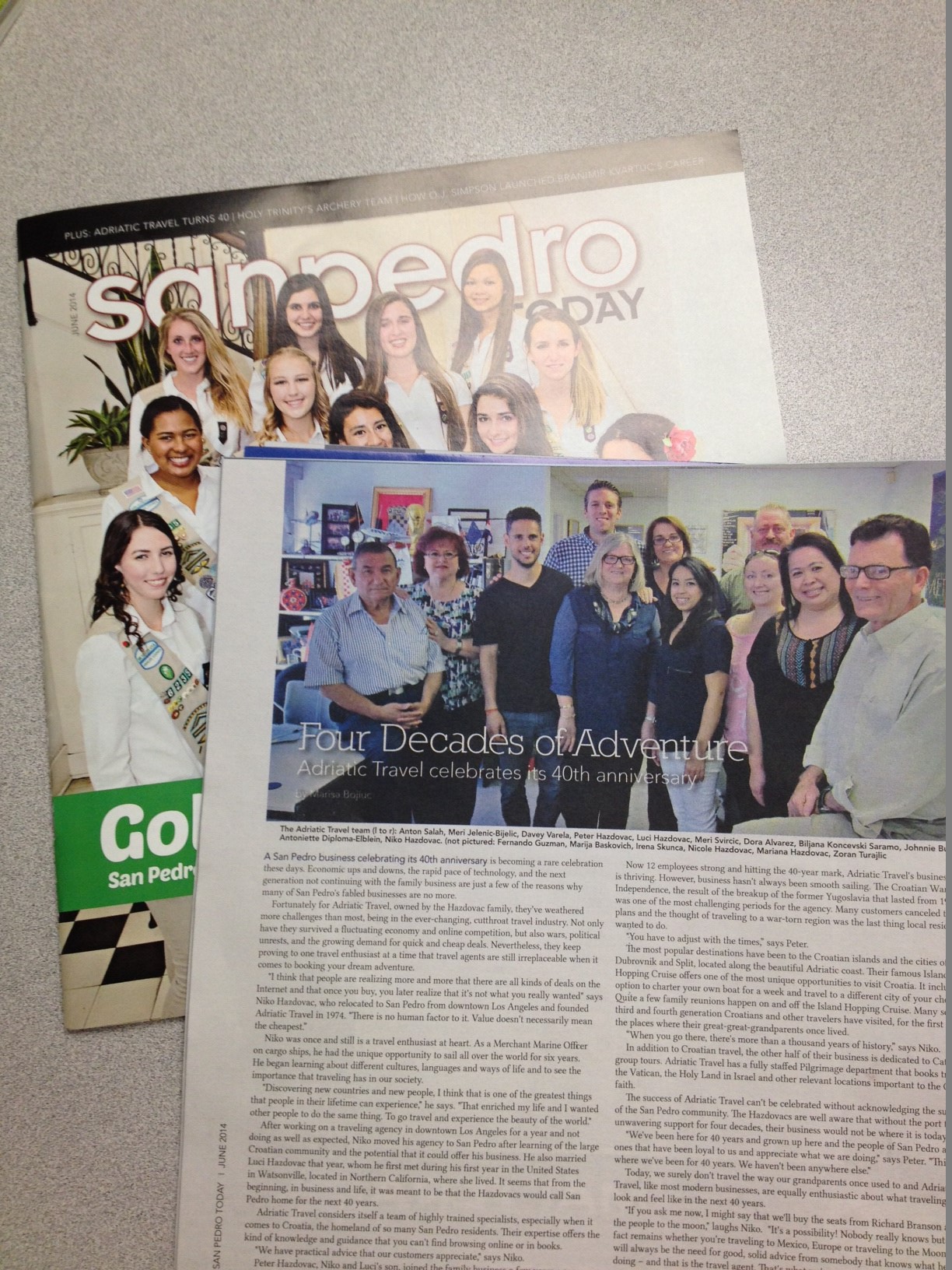 San Pedro Today – Four Decades of Adventure
A San Pedro business celebrating its 40th anniversary is becoming a rare celebration these days. Economic ups and downs, the rapid pace of technology, and the next generation not continuing with the family business are just a few of the reasons why many of San Pedro's fabled businesses are no more.
Fortunately for Adriatic Travel, owned by the Hazdovac family, they've weathered more challenges than most, being in the ever-changing, cutthroat travel industry. Not only have they survived a fluctuating economy and online competition, but also wars, political unrests, and the growing demand for quick and cheap deals. Nevertheless, they keep proving to one travel enthusiast at a time that travel agents are still irreplaceable when it comes to booking your dream adventure.
"I think that people are realizing more and more that there are all kinds of deals on the Internet and that once you buy, you later realize that it's not what you really wanted" says Niko Hazdovac, who relocated to San Pedro from Downtown Los Angeles and founded Adriatic Travel in 1974. "There is no human factor to it. Value doesn't necessarily mean the cheapest."
Niko was once and still is a travel enthusiast at heart. As a Merchant Marine Officer on cargo ships, he had the unique opportunity to sail all over the world for six years. He began learning about different cultures, languages and ways of life and to see the importance that traveling has in our society.
"Discovering new countries and new people, I think that is one of the greatest things that people in their lifetime can experience," he says. "That enriched my life and I wanted other people to do the same thing. To go travel and experience the beauty of the world."
After working on a traveling agency in downtown Los Angeles for a year and not doing as well as expected, Niko moved his agency to San Pedro after learning of the large Croatian community and the potential that it could offer his business. He also married Luci Hazdovac that year, whom he first met during his first year in the United States in Watsonville, located in Northern California, where she lived. It seems that from the beginning, in business and life, it was meant to be that the Hazdovacs would call San Pedro home for the next 40 years.
Adriatic Travel considers itself a team of highly trained specialists, especially when it comes to Croatia, the homeland of so many San Pedro residents. Their expertise offers the kind of knowledge and guidance that you can't find browsing online or in books.
"We have practical advice that our customers appreciate," says Niko.
Peter Hazdovac, Niko and Luci's son, joined the family business a few years ago, helping to develop their website (www.adriatictours.com), which has become popular at the nationwide due to the agency's unique Croatian specialty.
Now 12 employees strong and hitting the 40-year mark, Adriatic Travel's business is thriving. However, business hasn't always been smooth sailing. The Croatian War of Independence, the result of the breakup of the former Yugoslavia that lasted from 1991-95, was one of the most challenging periods for the agency. Many customers canceled travel plans and the thought of traveling to a war-torn region was the last thing local residents wanted to do.
"You have to adjust with the times," says Peter.
The most popular destinations have been to the Croatian islands and the cities of Dubrovnik and Split, located along the beautiful Adriatic coast. Their famous Island Hopping Cruise offers one of the most unique opportunities to visit Croatia. It includes the option to charter your own boat for a week and travel to a different city of your choice. Quite a few family reunions happen on and off the Island Hopping Cruise. Many second, third and fourth generation Croatians and other travelers have visited, for the first time, the places where their great-great-grandparents once lived.
"When you go there, there's more than a thousand years of history," says Niko.
In addition to Croatian travel, the other half of their business is dedicated to Catholic group tours. Adriatic Travel has a fully staffed Pilgrimage department that books travel to the Vatican, the Holy Land in Israel and other relevant locations important to the Catholic faith.
The success of Adriatic Travel can't be celebrated without acknowledging the support of the San Pedro community. The Hazdovacs are well aware that without the port town's unwavering support for four decades, their business would not be where it is today.
"We've been here for 40 years and grown up here and the people of San Pedro are the ones that have been loyal to us and appreciate what we are doing," says Peter. "This is where we've been for 40 years. We haven't been anywhere else."
Today, we surely don't travel the way our grandparents once used to and Adriatic Travel, like most modern businesses, are equally enthusiastic about what traveling will look and feel like in the next 40 years.
"If you ask me now, I might say that we'll buy the seats from Richard Branson and send the people to the moon," laughs Niko. "It's a possibility! Nobody really knows but the basic fact remains whether you're traveling to Mexico, Europe or traveling to the Moon, there will always be the need for good, solid advice from somebody that knows what he or she is doing – and that is the travel agent. That's what we're counting on." spt
Adriatic Travel is located at 777 W 9th St. in San Pedro. For more information, call (310) 548-1446 or visit www.adriatictours.com.